A1B  1~50% RH Dry Cabinet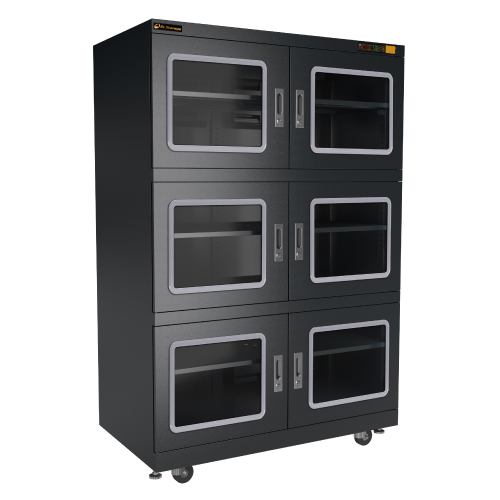 A1B is specially designed for moisture sensitive devices of level 4,5,5A,or 6. The A1B can eliminate oxidation of stored parts. So it is useful for storing parts such as precision metal parts, miniature devices, pharmaceutical substance, biotic specimens, battery, crystal, IC package module, optical lens or scientific precision instruments..etc.
Product Line
Model
A1B-1200-6
A1B-600
A1B-400
A1B-200
Product Image
Humidity Adjustment Range
1~50%RH
Precision
±3.0%RH, ±1.0℃
Voltage
110V/230V
External dimensions (mm)
W1200*D672*H1820
W600*D672*H1820
W600*D672*H1274
W600*D672*H636
Internal dimensions (mm)
W1198*D644*H1618
W598*D644*H1618
W598*D644*H1072
W598*D644*H526
Shelf dimensions (mm)
W1155*D530*H20
W555*D530*H20
W555*D530*H20
W555*D530*H20
Capacity
1250L
624L
411L
202L
No. of Shelf
5
5
3
2
Power consumption
Ave. 48.6Wh
Max. 145W
Ave. 48.6Wh
Max. 145W
Ave. 48.6Wh
Max. 145W
Ave. 48.6Wh
Max. 145W
Standard features:
Flash and buzz alarm: Built-in humidity and temperature alarm; upper and lowers limits can be set.
Calibration reminding: Built-in calibration reminding; 

world's first

 and only dry cabint that complies with ISO standard.
PPS heat resistant material: Used on all our dryers; 260°C heat tolerance to avoid any deforming or melting of dryer.
RS232 port: Built-in RS232 port to be used with our software for instant monitoring and graphing of condition inside the cabinet.
Humidity Manager software: Computerized humidity management that replaced human recording; be aware of the condition inside the cabinet at all time.