SHINMAYWA INDUSTRIES - JAPAN
The origin of ShinMaywa date back to 1920 with the establishment of an Aircraft Department by Kawanishi Machinery Company.
In 2020, ShinMaywa Industries, Ltd. celebrated the 100th anniversary of the founding of the business.
During the years since foundation, ShinMaywa has expanded its business into following fields :-
Aircraft Manufacturing
ShinMaywa is the prime manufacturer of the world's only amphibian aircraft capable of open-sea landing and takeoff.
Building Special Purpose Truck
ShinMaywa produces over 200 types of trucks, including Dump Trucks, Refuse Compactors, and Tailgate Lifters to Concrete Mixer and Petroleum Tanks.
Water Treatment Equipment
ShinMaywa develops and manufactures all types of fluid and related facilities and equipment, including pumps, essential for water treatment and remote monitoring systems.
Wire Processing System
ShinMaywa's Wire Processing System perform the entire operation of terminating cables ― from high-speed, high-precision cutting to stripping and crimping. Satisfying automobile wire harness manufacturers with their high quality, they command the top share of the market in Japan and other Asian countries.
It was in September 1956 when the first Automatic wire Stripping machine development was completed.
Environmental System
Providing engineering services with an integrated setup, ShinMaywa meet all refuse treatment needs from installation to maintenance.
Thin Film & Surface modification.
ShinMaywa develop a wide range of innovative surface modification technologies which provides remarkable surface hardness, wear resistance, corrosion resistance and polishing.
Thin Film coating system
ShinMaywa's precision thin film coating technology contributes to the fabrication of various thin-films supporting high-technologies, including optical thin-films used in the fields of optics, as well as semiconductors, liquid crystal, reflector and protection film coating for automobile lamps.
Built in direct Direct Drive Motor
ShinMaywa's BUILT-IN DD Series AC servomotors are synchronous (brush less DC motor) direct drive (DD) motors developed for direct-drive robots.
Aircraft Passenger Boarding Bridge
With more than 800 systems installed at airports in Japan and Southeast Asia during the last 40 years, ShinMaywa's Aircraft Passenger Boarding Bridge "PAXWAY" holds the No. 1 share of the Asian market except in China.
ShinMaywa developed the first boarding bridge for Airbus A380, the next-generation superjumbo jet.
Parking Equipment.
ShinMaywa's Parking Systems Division handles the manufacture, sales, installation, maintenance, improvement, and repair of our mechanical car parking systems. Domestically, we have sold more than 5,800 large-scale systems in Japan.
VISION WITH INSIGHT
 ShinMaywa intend to become a corporate group that is always needed by global society.
Wire Processing System Division
By matching of high-accuracy units and high-speed control, TR201C realizes a maximum crimping volume of 4,500 wires per hour. The high-accuracy drive realizes high-quality strip processing and terminal crimping of narrow-gauge wire by its own control technology. The lightweight optimization design of the drive part provides environment-friendly features such as energy saving by miniaturization of the motor and low noise by the installation of a silent crimper in which the machine noise is minimized. The swing-type touch panel moves freely. It can respond to the movement of the operator smoothly.
Wire Cross-section – 0.013 to 1.25mm2
Available version – Crimp to Crimp
                            – Single end Tinning
                            – Both end Tinning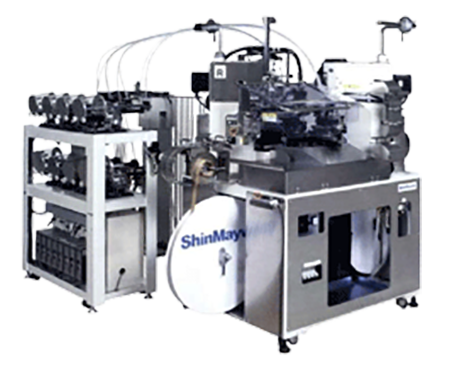 The new type both ends crimping machine TRD301 series offers several different versions for seal insertion and intermediate stripping machine. The TRD301 series has now been developed with high emphasis in different areas e.g.; high processing capability, an excellent stability for processing accuracy as a result of a complete renovation with ShinMaywa's independent straight drive system, thoroughly brushing up the high-speed control technology and using the design of high-rigidity drive mechanism. The operation Windows base operating system of PC control was developed, which uses graphical user interface for easy data input. In addition, the new type digital crimping press is integrated as standard on all model machines. Its high-rigidity body and integration of an independent link mechanism which enhances the automatic crimp height adjustment that allows quick set-up changes. The TRD301 series is integrated with various ShinMaywa technologies that promise a reliability enhancement in productivity.
Wire Cross-section – 0.13 to 8mm2
Available version – Crimp to Crimp
                           – Single side Seal
                           – Single side 4 seals module
                           – Both side 4 seals module
The automotive industry continues to innovate and expand rapidly. As automobile computerization advances, wire harnesses are ever-more important. This means the wires must be made even smaller for downsizing the wire harnesses. Meanwhile, in line with global trends, harnesses need to be manufactured in low-volume to suit auto makers' production plans. ShinMaywa's TRD401 both-ends crimping machines solve these requirements.
The TRD401 comes standard with a terminal crimping monitor for sophisticated quality management as well as a range of sensors. Automatic wire changer and applicator changer, boost productivity.
With this new seal insertion machine featuring a 3-module automatic-exchange seal unit, the TRD401 will be even more valuable to customers around the world.
Wire Cross-section   –  0.13 to 3mm2
Available version      –  Crimp to Crimp|
                                 – Single side Seal
                                 – Single side 3 seals module
                                 – Both side 3 seals module  
The TR500 series has achieved the top-class maximum processing capacity up to 6,000 pieces/hour as the single-wire crimping system that can use any genuine applicator of respective companies (compared to our company's products).
This machine is provided with a newly developed system consisting of "X axis and Y axis" mechanism in the feed unit.
The latest controllers and servo motors have achieved high-speed and high accuracy crimping, which has significantly increased the processing capacity.
The newly belt feed designed mechanism unit allows delicate wires to be fed at high-speed.
In addition, the feedback correction control increased the cut length accuracy and stability using an encoder.
By reducing path line wire inlets to 50% from previous equipment, the setup time has reduced significantly.
This machine achieves high-speed performance, high durability, easy maintenance and very friendly software.
Wire Cross-section – 0.08 to 1.25mm2
Available version –  Crimp to Crimp
                            – Single side Seal
                            – Single side 3 seals module
                            – Both side 3 seals module