Taiwan Fylin Industrial (TFI) is the provider of ULDs, precision sheet metal parts and customized transport tooling.
The company began by designing and manufacturing sheet metal fabrications over three decades ago. TFI applied their skills to Unit Load Devices in 1997, providing air cargo containers, pallets and nets to the global air cargo industry. Located in the heart of Asia, TFI has become the largest ULD specialist in the region in just a few years. Over the years, TFI has also moved into the specialized transport tooling industry, designing solutions for the movement of highly sensitive equipment to major high-tech companies around the world.
TFI's ULD products are designed and manufactured in compliance with NAS3610 and IATA regulations. TFI has been awarded the Technical Standard Order (TSO) by the Civil Aeronautics Administration, and Approvals from the Federal Aviation Administration. The entire organization is governed by ISO 9001:2000 + AS9100 B including ULD, sheet metal and transport tooling. TFI's two facilities accommodate the most advanced equipment specifically customized for transport tooling and sheet metal production in a 15,000 m2 floor space.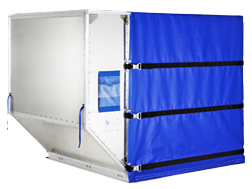 Fixed or foldable shelves
Base Dimensions: 1,534 mm x 1,562 mm
Height: 1,626 mm
Max Gross Weight: 1,588 kg
Door: Metal, Canvas with Velcro, hook, zipper, buckle fastening mechanisms.
Panels: Aluminum alloy or TUFFlight composite
Weight: From 62 kg.
Dimensions: 2,438 x 3,175 mm
Max Gross Weight: 6,804 kg
Construction: 7000 series Aluminum alloy
Weight: from 104 kg
Dimensions: 2,235 / 2,438 x 3,175 x up to 2,997
Max Gross Weight: 6,804 kg
Webbing: 100 % polyester
Mesh Type: Knotless
Fittings: 18 double stud fittings
Hooks: 18
Standard lashing line: 5,000 mm
Weight: from 15 kg