Founded in 1983, Ren Thang Co., Ltd. is a professional machinery manufacturer of making electronic components lead cutter/former, PCB assembly equipment for electronics factories. They are Tier 1 manufacturer of the same and have a wide customer range across the globe.
Automatic PCB Brushing Cleaning Machine
Two-stage cleaning: the front stage is moistened with detergent, and the rear stage is cleaned.

The roller brushes will not damage the PC board.

With a pressure plate device, it can prevent the PC board from floating up during cleaning.

It can be connected to automatic soldering machine to achieve consistent operation.

The cleaning angle, height and speed of the brush can be adjusted.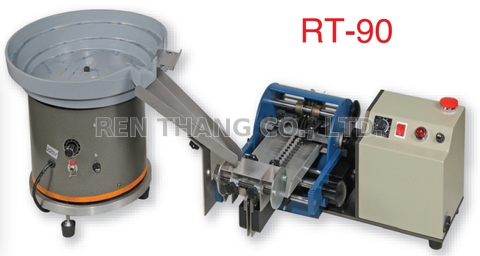 loose componment lead former
RF-101M = (RF-101MA) + (RF-101MB). RF-101M is available for tape packed (MB model) and Loose in bulk (MA Model).
Powerful, heavy-duty Auto Axial Lead former/ cutter, with customized die set available for various forming specification.
Tailored / Costume die is available for any lead forming specification. Welcome to email drawing for our best solution for you.
[Optional Accessory] Lead-supporter device ( Pressure relief) : When bending the components leads, the supporters hold the lead to prevent from damage.
Never damage component leads or components body.
RF-101M, Lead forming machine is suitable for mass production line.
auto taped lead formers cutter
Our organization is well known name in offering Taped Radial Lead Forming Machine to our clients. Offered range is recognized for its important attributes which includes low maintenance cost, high performance and long service life. This Taped Radial Lead Forming Machine is free from defects and operates without trouble and without consumption of much power.
loose component lead cutter
Equipped with adjustable feeding track automatic bowl feeder.
The track is adjustable for cutting varied type components, including cylindrical, cuboids, oblate components, etc.
Powerful machine is suitable for mass production used.
It's the best selection for mass production in short lead operation.
The Automatic bowl feeder is independent that can be separated.
The modes are listed for reference as bellow.