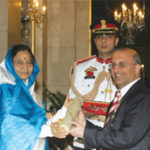 PADMA SHRI AWARD
Shri Surinder Mehta being honoured with the Padma Shri by Her Excellency Smt. Pratibha Patil, President of India at Rashtrapati Bhavan. In its endless pursuit for quality, services and overall performance, the group and its founder chairman Shri Surinder Mehta.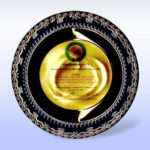 INDIAN TRANSFORMER MANUFACTURERS ASSOCIATION AWARD
Felicitated to Padma Shri Shri Surinder Mehta, Chairman & Managing Director, Prime Group of Companies, Gurgaon For his outstanding Contribution to "Power Sector" by Indian Transformer Manufacturers Association (ITMA).
ENTREPRENEUR AWARD
The Awards function was held at The Lalit Ashok, Bengaluru on the occasion of Aero India and was attended by the who's who of the aerospace industry. The Chief Guest for the awards Dr. M M Pallam Raju, Hon. Minister of State for Defence, Govt. of India handed over the awards.
YOUNG ENTREPRENEUR AWARD
Mr. Rohan Mehta, Managing Director, Prime Meiden Ltd.,being awarded the Young Entrepreneur of the Year by Shri Kodikunnil Suresh, Minister of State for Labour & Employment, Government of India and Shri Haroon Yusuf, Minister for Power, Food & Civil Supplies, Development, N.C.T of Delhi.
SRCC AT VIGYAN BHAWAN AWARD
Mr. Surinder Mehta, an alumni of Shri Ram College of Commerce (SRCC), Delhi University, being felicitated by Mr. Ajay S. Sriram, Chairman, Shriram Group and Chairman, Governing Body of SRCC, at a function at Vigyan Bhawan on recognition of Shri Mehta being the first SRCC alumni in the history of the college to be awarded Padma Shri by Hon'ble President of India. Also in the photograph is Mr. Anshu Jain, Head of Global Market, Deutsche Bank, sharing the podium on the occasion.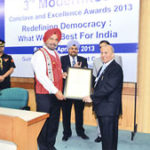 MODERNITES' ACHIEVERS AWARD
The Modernites' Achievers Award for Excellence on behalf of Modern School Old Students Association (MSOSA) being presented to Padma Shri Shri Surinder Mehta , founder Chairman, Prime Group by Hon'ble General J.J. Singh, Governor of Arunachal Pradesh, for his notable contributions to the Indian economy, at a function held on New Delhi.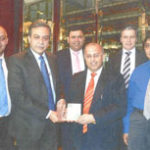 Business Partner Award
GE Digital Energy presented Best Performing Business Partner Award to Padma Shri Shri Surinder Mehta, Chairman, "Prime Group" & "PCI Ltd." Team for delivering Growth with Excellence in respects of GE's Monitoring & Diagnostics Products Line, at Hotel Leela Kempinski, Gurgaon.
PME AWARD
Presented By PME Power Solutions (India) Ltd., Greater Noida
ANDHRA CULTURAL AND WELFARE SOCIETY AWARD
Mr. Surinder Mehta, being felicitated with "Pragya Puraskar" by Hon'ble Justice P. Sathasivam, Justice, Supreme Court, at a function organized by Andhra Cultural and Welfare society at New Delhi on recognition of Shri Mehta being awarded Padma Shri by Hon'ble President of India. Also seen in the photograph is Mr K Padmanabhaiah, Former Home Secretary – Govt. of India, Mr P. Abraham, Former Power Secretary – Government of India and Mr. C.R. Prasad, Former CMD, GAIL present on the occasion.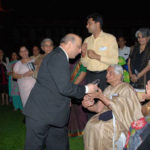 OLD SCHOOL ASSOCIATION AWARD
Mr Surinder Mehta, an alumni of Modern School, Delhi, being felicitated by the Old Student Association (MSOSA) at their annual get – together in recognition of Shri Mehta being awarded Padma Shri by Hon'ble President of India. Mrs M.N. Kapur, wife of former Principal of Modern School, seen presenting a momento to Shri Surinder Mehta. Mrs Lata Vaidyanathan, Principal Modern School, Barakhamba Road, also seen in the picture seated next to Mrs Kapoor.
The prime concern of the PRIME GROUP is best reflected in its service to the society. Inspired by a common urge and imbibed with the idea to do something positive and meaningful, the International Society for Human Welfare and Rehabilitation (ISHWAR) was established as a non-profit humanitarian Organization dedicated to serve the needs of the physically challenged and the economically weaker sections of the society, irrespective of caste, creed, color, community, religion, race or language. It assists the disabled and the poor to regain their independence and rise to the challenges ahead.
In joint venture with Chas A. Blatchford & Sons of UK, a world leader in prosthetics, the society together, with the constituents/promoter of the Prime Group, sponsored Endolite India Limited, a Prosthetics Company. The objective of this organisation is to bring the latest prosthetic technology to India, upper limbs and orthotics involving the state-of-the-art technology from the most advanced countries in that respective fields including U.K., U.S.A., Finland, Sweden etc. It has already set up world-class state-of-the-art clinics cum service centers at Delhi, Mumbai, Chennai, Kolkata and Hyderabad. Endolite India is the first prosthetic facility in Asia to acquire ISO 9002 certificate.
The company provides highly reliable, cost-effective and technologically superior prosthetic products with purely altruistic purpose. The products include a microprocessor controlled intelligent prosthesis and a computer controlled hydraulic knee which enables an amputee not only to walk comfortably on steps but also to climb down the stairs without difficulty. Its services are provided with the help of highly qualified team of foreign trained prosthetists under the direct supervision and control of senior retired officers of the Indian Armed Forces.
In the coming year, ISHWAR and Endolite India hope to make meaningful contributions for the enlistment of the society at large.