Saki's "QUALITY DRIVEN Production" eco-system starts with 3D-SPI, 2D and 3D-AOI, and 3D-AXI machines designed with unique gantry systems, technologies, and inspection algorithms to deliver highly accurate, high speed, and user friendly measurement systems. Machine to Machine (M2M) communication features support "Autonomous Production Line" and "Smart Factory" initiatives optimizing PCB quality and throughput in real time. Saki machines deliver world class inspection for semiconductor and PCB production.
High-speed vibration-free line scan technology




Optical system includes a telecentric lens capturing images with no blind spots

Coaxial overhead lighting eliminates shadowing, improves capability and reduces production start-up time

Line scan system detects FOD and extra components across the entire surface of the PCB

Unique Fujiyama algorithm verifies five critical aspects of through-hole solder joints

Conformal coating UV light inspection

Benchtop Inspection System Product Line

Inline Inspection System width is the same for both single-lane and dual-lane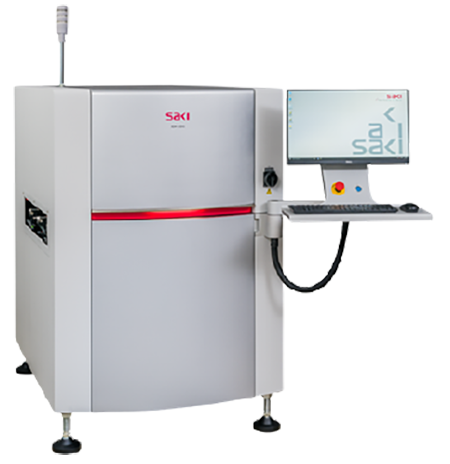 Multiple inspection resolutions of 7μm, 12μm, and 18μm

Multiple machine sizes include medium, large, extra large and dual lane

Optional Side Cameras

Saki's innovative Z-axis optical-head control feature is now available with 3Di Series inline AOI systems

Rigid gantry structure and exclusive dual motor drive system

High resolution linear scale provides high accuracy positioning

CoaXPress camera delivers faster inspection and measurement processes

Saki Self-Programming Software (SSP)

Inspection compliance with IPC 610 Standards

Extra Component Detection identifies foreign material

"Fujiyama" Through-hole Device Solder Inspection

Job Data Convert Function automatically converts Pick-and-Place machine data to inspection machine data. This function greatly reduces the time required to create inspection data.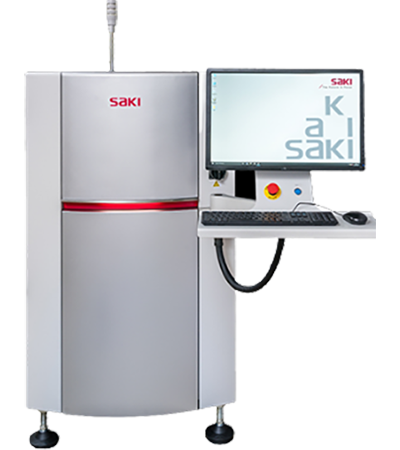 Shares the same rigid gantry structure with Saki's 3Di-AOI

Rigid gantry structure and exclusive dual Y axis motor drive system

High resolution linear scale for accurate positioning

CoaXPress camera delivers higher speed and higher accuracy measurement

Simultaneous 2D and 3D inspection of the entire PCB surface

Three sensors are available with 7μm, 12μm, and 18μm resolution

Three machine sizes available including dual lane to support varying applications

Warpage management System

Coplanarity inspection Function

SPC Function
Acquires high-quality CT images of planar objects using fewer projections

Identifies various defects in 3D images

High accuracy true 3D automatic inspection

Displays actual measurement and target point with 3D images

Displays defects in high-precision 3D color images

Inspection of standard PCBs, components and solder joints, and other electric components

Head in Pillow (HIP) Defect Inspection

Detection and measurement of voids in multilayer PCB power modules.